Home >kanamapo > Amazing Technologies >
Amazing Technologies
[Recommended products] Ultra small Fully- controlled Cell- type Plant Factory System "AGRI-Oh!"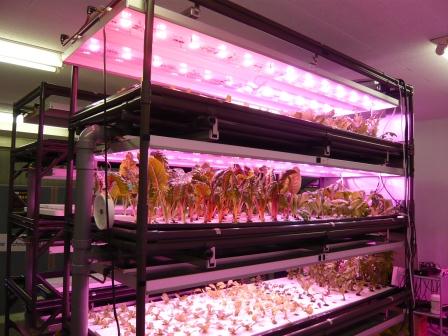 It is the vegetable cultivation system by Fully- controlled Cell type plant factory which is consited of made of the liquid fertilizer tank, 5 shelves hydroponics equipment, the LED lighting unit, and the water- cooled LED heat exchanging unit.
 The ultra small plant factory system adopts energy saving and space-saving technology.
 Our plant factory system can be constructed in the basement of buildings, in office in town or empty space of a factory.
 Plant factory business can be started with small investment and low running cost.
 Anyone can grow vegetables easily with our LED plant factory system.
[ Using technologies ]  The LED forticulture lighting equipment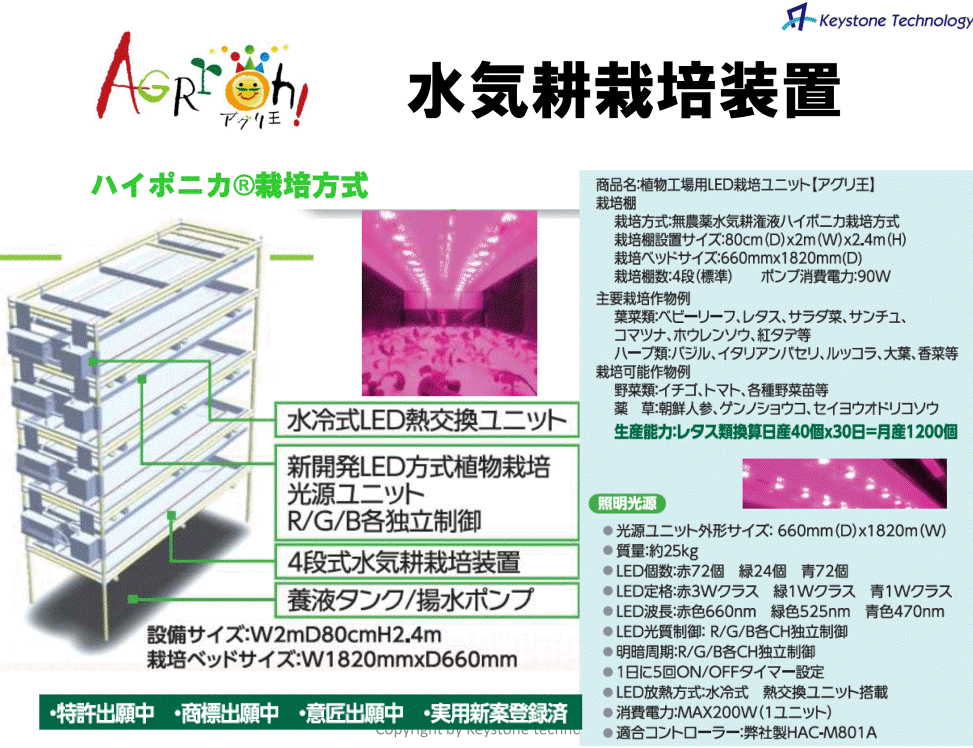 The LED lighting which can irradiate red, blue light to a plant which need for its growth is the leading role of this product. Our company developed 660nm red LED which is most suitable for activity of photosynthesis. Our LED has brightness of 10 times or more than other copanies existing 660nm red LED. As vegetables' figure looks natural with arrangement of green LED by AGRI-Oh , it functions as a best display too because people can see such LED vegetable cultivation with own eyes.
 Our system can create a better plant cultivation environment by LED lighting which distributs light evenly and wider while LED heat is reduced by wooter-cooled heat exchange unit.
| | |
| --- | --- |
| Company name | Keystone Technology Inc. |
| Location | 5-68-5, Otamachi, Naka-ku, Yokohama-city, 231-0011Japan |
| Telephone number | +81-45-222-3117 |
| URL | http://www.keystone-tech.co.jp |